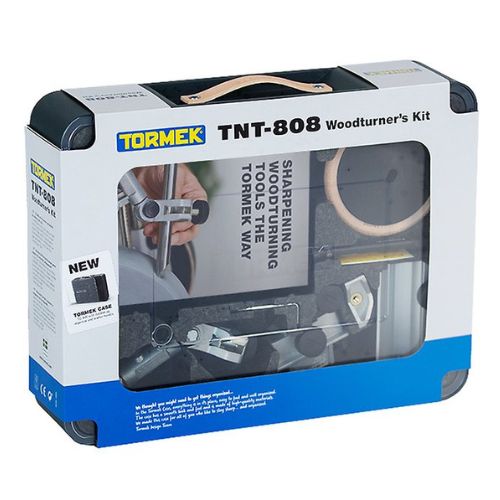 Tormek TNT-808 Woodturner's Kit
✓ Lowest Price Guaranteed + No Sales Tax
✓ FREE SHIPPING:
Ships out next business day
✓ Questions?
Give Us A Call: 1-800-727-6553
---
Tormek Woodturner's Kit TNT-808
The Tormek TNT-808 Woodturner's Kit is the essential Woodworker's add-on to the Tormek T4 or T8 Sharpening Machine giving every jig and accessory you need for woodturning. All your accessories will be conveniently stored in the included case. The Woodturner's Kit also comes with a comprehensive reference book showing you how to use the most common turning tools to achieve the sharpest results.
What's Included in the TNT-808 Woodturner's Kit:
TC-800 Carrying Case
Comes with premium leather handle and a slidable lid to keep everything in place.
HTK-00 Storage Tray
Stores and organizes all jigs with the perfect fit.
MH-380 Machine Cover
Protects your machine from shavings and wood dust. Fits all Tormek Sharpening Machine models.
SVD-186 R Gouge Jig
For fingernail shaped bowl gouges and spindle gouges. Can be set to create the edge geometry of your choice. Also for exchangeable cutters of any shape.
SVD-110 Tool Rest
For scrapers, hollowing tools and thin parting tools. Secure locking on the Universal Support thanks to the patented design.
SVS-50 Multi Jig
For skew chisel with a straight or a curved edge. Can be set for any skew angle. Even for skews with oval section. Also for parting and beading tools and roughing gouges.
TTS-100 Turning Tool Setter
For instant setting of the geometries on gouges and skews when using the SVD-185 and the SVS-50 jigs. With built in edge geometries. Works on any stone diameter.
LA-120 Leather Honing Wheel
For honing and polishing the flute on gouges. With two exchangeable profiles. One with a 3 mm (1/8") radius and one with a 60° point.
PL-01 Profile Labels + PP-10 Profile Pen
Note the sharpening settings for your specific tool and attach the label to the ferrule of the tool. Makes it easy to repeat the sharpening angle and shape of your tool.
---
Share this Product
---
More from this collection