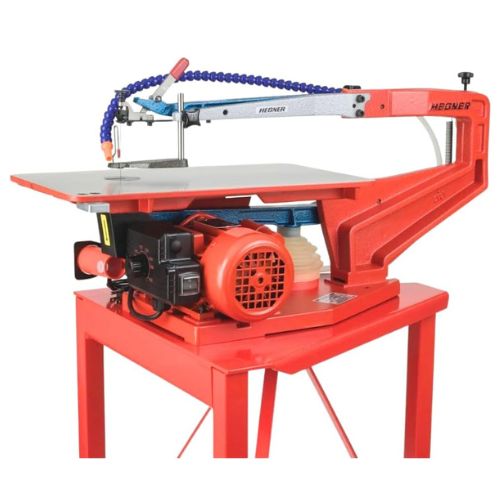 Hegner Multimax 22 Variable Speed Scroll Saw
✓ We Are the Exclusive Hegner Dealer in the U.S.
✓ Lowest Price Guaranteed + No Sales Tax
✓ Ships out next business day
✓ Questions?
Give Us A Call: 1-800-727-6553
---
Hegner Multimax 22V 22"
 S

croll Saw

The Hegner Multimax 22 Variable Speed Scroll Saw is a legendary scroll saw and a top seller of ours. With the Hegner M22-V, you get an extra large 22" throat table (big enough for 44" of work), exceptional cutting feel, smooth and quiet operation, quick and easy blade installation, precise blade guidance for maximum control and precision, and more. This is an ideal scroll saw to help the serious woodworker tackle the widest range of scrolling projects.
The Hegner Multimax Variable Speed Scroll Saw was the winner of American Woodworking's "Editor's Choice" Award and WOOD magazine's choice as "Best Overall Performer" of all major premium brands.
"Smoothest running machine I have ever used."
Ellerd R., Blaine, Minnesota

"Wonderful machine. Love the ease of changing blades and adjusting the table."
Monty B., Port Alberni, British Columbia
Hegner Multimax 22 $500+ Mega Promo for A Limited Time!
With your M22-V, you will get a Scroll Saw fully assembled with a hold-down arm, dual-tilt worktable, and sawdust management system. It also includes a pair of 0.7mm blade clamps mounted on the machine, one extra pair of 0.7mm blade clamps, 2 TuffScrews, one TuffWrench, one plastic table insert, a metal table insert installed on the machine, an assortment of 76 saw blades, and miscellaneous operating hardware.
For a limited time, we are lowering the price $200 AND including $300 worth of add-ons for FREE with your order. That's over $500 in total savings with the add-ons!
Hegner Scroll Saw Stand: 31.5" High

($235 Value)
Almost every customer who purchased the Multimax 22 without the stand eventually returned to us to buy the stand. That is why for a limited time, we are including it with your scroll saw purchase. The stand will optimize the saw's performance and ensure smoother operation by absorbing the vibration inherent in scroll saws.
Hegner QuickClamp ($40 Value)
While you may use the Standard Blade Clamps, we highly recommend the QuickClamp for a better overall experience with your Hegner Scroll Saw. The QuickClamp instantly aligns your blade in the same position every time and doesn't require a wrench. It is super easy to release and re-tighten for speedy blade changes - especially useful for inside cuts! The knurled aluminum knob is easy to grip and places pressure directly on the blade for slip-free tightening. The QuickClamp accepts all blade sizes and is designed to be locked into place in the upper arm.
As a token of our appreciation, we are also going to give you a Hegner Apron. This apron has 2 large front pockets and a narrow breast pocket for blades, pencils, or other utensils. It has a tie at the waist and an adjustable strap. The Hegner logo is embroidered on its khaki-colored cloth. It's made of durable 65% Polyester/35% Cotton and is machine washable for easy cleaning and comfort. One size fits most.
Why Professional Woodworkers Love the Hegner Multimax 22V Variable Speed Scroll Saw:
Exceptionally Precise Blade Guidance for Maximum Control
The M22-V Scroll Saw allows you to follow intricate patterns in a wide range of thicknesses and materials, makes on-the-spot turns and inside cuts easily, and produces smooth edges without sanding. The most complicated of woodworking projects are made possible with the Hegner Multimax 22.
"The difference between HEGNER and other scroll saws is like night and day."
Elizabeth H, Brookhaven, Pennsylvania
"I had a 14" HEGNER. When I needed a larger saw, I tried a (brand D), which I returned. That I tried a (Brand S), which I also returned. Then I tried another (Brand S), which I returned. Then I bought a HEGNER again. My wife knew I would only be happy with a HEGNER."
Harold Z., Iola, Wisconsin
Quiet Operation and Legendary Cutting "Feel"
The 22" Multimax has patented blade holders, a unique arm geometry to keep the blade almost perfectly vertical at all times, a precision-engineered "arm flex", and a tension knob at the back of the upper arm allowing for easy blade tension adjustment. This leads to a more comfortable operation, less "chatter" and noise, and low stress on blades for a longer life.
Variable Speed Motor (400-1700 SPM)
The 22" Multimax Scroll Saw has a variable speed induction motor which enables accurate speed changes from 400-1700 strokes per minute. Other scroll saw machines do not have this broad of a speed range, making it very difficult to get a good finish. A Hegner Saw makes it easy to get the speed you need and end up with the finished product you deserve.
Large Dual Tilt Saw Table
The M22-V has an adjustable table that allows you to tilt it up to a 40 degree angle for greater control over your work. Not only that, the table is much larger than typical scroll saws. Most scroll saws are only 14" or 16" which really only allows you to cut through the center of a 32" piece of wood if you are lucky. This might not seem like a big deal, but the additional 6" on the M22-V allows you to cut 44" pieces of wood. This additional table size and throat capacity allows you much more flexibility with the projects you can take on.
Sawdust Management System
Keep your scroll saw work area clean with the sawdust management system. This convenient system is attached right to your Multimax 22 scroll saw and allows you to either blow air out or draw air in (when connected to a shop vac). You can change from blower to dust extractor in a matter of seconds. This feature has been standard on all new Hegner Scroll Saws since 2013.

Above the table is the blower (blue tube).
Below the table is the extractor (red funnel).
Questions? Give Us A Call at 1-800-727-6553
If you have any questions at all, we'd be happy to help. We are the Exclusive Hegner Dealer in the U.S.A. and are experts on the Hegner Machine. With our current limited-time Hegner Promotion, we've never seen lower prices on this Legendary Machine.
Looking for M22-V Replacement Parts?
If you already own a M22-V and are looking for replacement parts, give us a call at 1-800-727-6553 or send us an email to support@advmachinery.com. We'd be happy to assist!
Hegner Variable Speed Scroll Saw Specifications
Dimensions of the Saw: 28 3/8" L x 12" W x 15" H
Throat: 22" - handles wood up to 44" across (largest capacity Hegner)
Thickness Capacity: 2 5/8"
Blade Stroke: .75" (Standard) or .47"
Dual-Tilt: 40 degrees left / 15 degrees right
Motor:

400-1700 RPM
2.83A Induction Motor
110V-60Hz, 100W

Stand: 31 1/2" H




QuickLock Tension System




Workpiece Hold-down w/ Fingerguard



7-year Commercial Use Manufacturer's Limited Warranty. See our Warranty page for more information.
Made in Germany
---
Share this Product
---
More from this collection