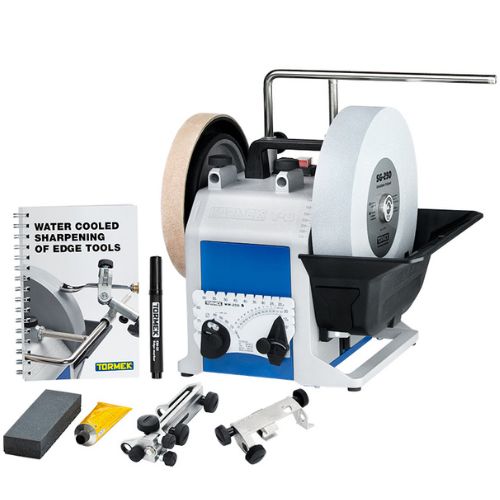 Tormek T8 Sharpening System
✓ Lowest Price Guaranteed + No Sales Tax
✓ FREE SHIPPING:
Ships out next business day
✓ Questions?
Give Us A Call: 1-800-727-6553
---
Tormek T-8 Sharpening Machine
The Tormek T-8 wanted to quickly say "nice to meet you" because it could be in your workshop for the next 20+ years. It's powerful yet quiet, fast yet accurate, has an advanced design yet is very user-friendly. This one machine can sharpen all of your edge tools, is water-cooled with no risk of overheating the steel, and has a powerful industrial AC motor for continuous use. With the Universal Support and patented precision mounts, you can guide all grinding jigs with unbeatable precision. It is the perfect sharpening machine for the quality-conscious professionals and enthusiasts and is ready to be one of the most important parts of your workshop.
Features of the Tormek T-8 Sharpening System:
SG-250 All-Around Grindstone
Adjustable sharpening between 220 and 1000 grit.
Universal Support
Support for all jigs providing unbeatable precision.

Patented Precision Mounts
Guarantees accurate and controllable sharpening.

MicroAdjust
With ACME thread and a scale for precise angle setting.

Magnetic Scraper
Collects steel particles and makes it easy to clean the water trough.
Screw Lift
Allows you to easily raise and lower the water trough.
EzyLock
Conveniently lock and unlock the grinding wheel without any extra tools.
Industrial AC Motor
Maintenance-free and tested for a 25,000 hour service life.
Efficient Drive Wheel System
Ensures years of silent and reliable use built to maintain optimal speed.
Made in Sweden & 8 Year Warranty
Comes with a 5 Year Warranty + 3 Years if you register after receiving your purchase.
What's Included in the Tormek T-8 Box:
SG-250 Original Grindstone Grinding Wheel
LA-220 Leather Honing Wheel
US-105 Universal Support for Precision Sharpening
T8-00 Storage Tray for organized storage of T8 Accessories
SE-77 Square Edge Jig for sharpening chisels and plane irons
TT-50 Truing Tool to protect your grindstone round and flat
SP-650 Stone Grader to adjust the grit of your stone
WM-200 AngleMaster to measure the sharpening angle
PA-70 Honing Compound to be used with the leather honing wheel
EM-15 Edge Marker to color the bevel when setting the angle for sharpening
HB-10 Tormek Handbook
Metal plate mount for WM-200 AngleMaster
Recommended Add-Ons to the Tormek T8
If you are new to using a Tormek, we highly recommend adding one, or both, of the following Tormek Jig & Accessory Kits. These kits conveniently help you get going with all the jigs and accessories you need.
HTK-806 Hand Tool Kit
Contains every jig and accessory for sharpening hand tools. Includes:
Case and tray for Hand Tool Kit

KJ-45 Centering Knife Jig
KJ-140 Wide Centering Knife Jig
SVM-00 Small Knife Holder
SVX-150 Scissors Jig
SVA-170 Axe Jig
SVS-38 Short Tool Jig
TNT-808 Woodturner's Kit
Contains every jig and accessory for sharpening your woodturning tools. Includes:
Case and Storage Tray for Woodturner's Kit
MH-380 Machine Cover for T-8
SVD-186R Gouge Jig
SVD-110 Tool Rest
SVS-50 Multi Jig
TTS-100 Turning Tool Setter
LA-120 Profiled Leather Honing Wheel
TNT-10 Handbook for Woodturning Tools
PL-01 Profile Labels
PP-10 Profile Pen
Helpful Videos of the Tormek T-8
Tormek T-8 Specifications:
Machine Specs

Width: 10 5/8" 

Depth: 10 5/8"

Height: 12"
Weight: 32.6 lbs

Performance:
Motor:

Industrial motor, single phase, AC
200 W (input), 100-115 V / 220-240 V, 50-60 Hz
Continuous operation
Quiet running, 54 dB
25,000 hours of operating time
---
Share this Product
---
More from this collection