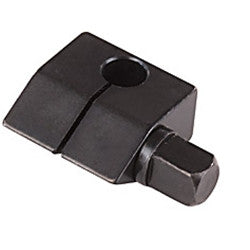 Hegner Blade Clamps
✓ We Are the Exclusive Hegner Dealer in the U.S.
✓ Lowest Price Guaranteed + No Sales Tax
✓ Ships out next business day
✓ Questions?
Give Us A Call: 1-800-727-6553
---
Available in three sizes, SOLD BY THE PAIR.  Choose desired size from dropdown box above:
Choose 0.5mm (small - .020") for sawblade sizes 4 or smaller.
Choose 0.7mm (medium - .028") for sawblade sizes 5 thru 9.
Choose 1.0mm (large - .040") for sawblade sizes 10 or larger.
Extra blade clamps make your life easier by allowing you to prepare multiple blades for rapid, tool-free blade exchanges as you work, whether switching between blade sizes or simply replacing a dull one. For maximum convenience, get one set of clamps for each blade size and type you commonly use!  
HEGNER standard blade clamps all share the same external size and shape, but are available with varying slot widths to better adapt to specific blade sizes. Use the Hegner TuffWrench to tighten and loosen the screws.
Please note:  new HEGNER saws are supplied with one or two pair (depending on saw model) of medium (0.7mm) clamps.
Why different slot sizes?  HEGNER's unique, patented clamps grip the blade easily and effectively due to a leveraged crimping action produced by the inside edges of the clamp slot converging onto the blade at an angle.  This angle must be within a certain range for maximum effectiveness.
If the angle is too shallow (large blade in small clamp) the grip will not be as secure.  If the angle is too steep (small blade in large clamp) the gripping area will be too small, causing stress on the blade which can lead to premature blade breakage. The smaller the blade, the greater the benefit of the narrow slot clamps.
How do you easily identify which clamp is which?  Small and large slot clamps both have a smooth top, but are easy to differentiate since the large slot is twice the size of the small one.  The medium slot clamp has a dimple in its top so you can easily tell it apart from the others.  Also, all separately ordered clamp pairs are supplied in individual bags identifying their size.
Note:  If you own an older saw with older clamps, the dimple may not be present on medium clamps, as this feature was introduced less than 20 years ago.  If in doubt regarding size, loosen the clamp screw and use a feeler gauge to determine the slot width.  Then mark the clamp in some way that suits your needs, so that you can use it for the proper blade sizes.
Standard clamps are supplied with a HEGNER TuffScrew, as shown above. Optional Blade Clamp Wing Nut can be used to replace the Tuffscrew for quicker setup (no need to grasp, position, release and store wrench). See accessories page for further details.
For the Quick Clamp or HQK, click HERE.   To understand the differences between blade clamps, click HERE.
(
Want to re-order the blades that were included with your Hegner Scroll Saw? 
Click Here!)   
---
Share this Product
---
More from this collection