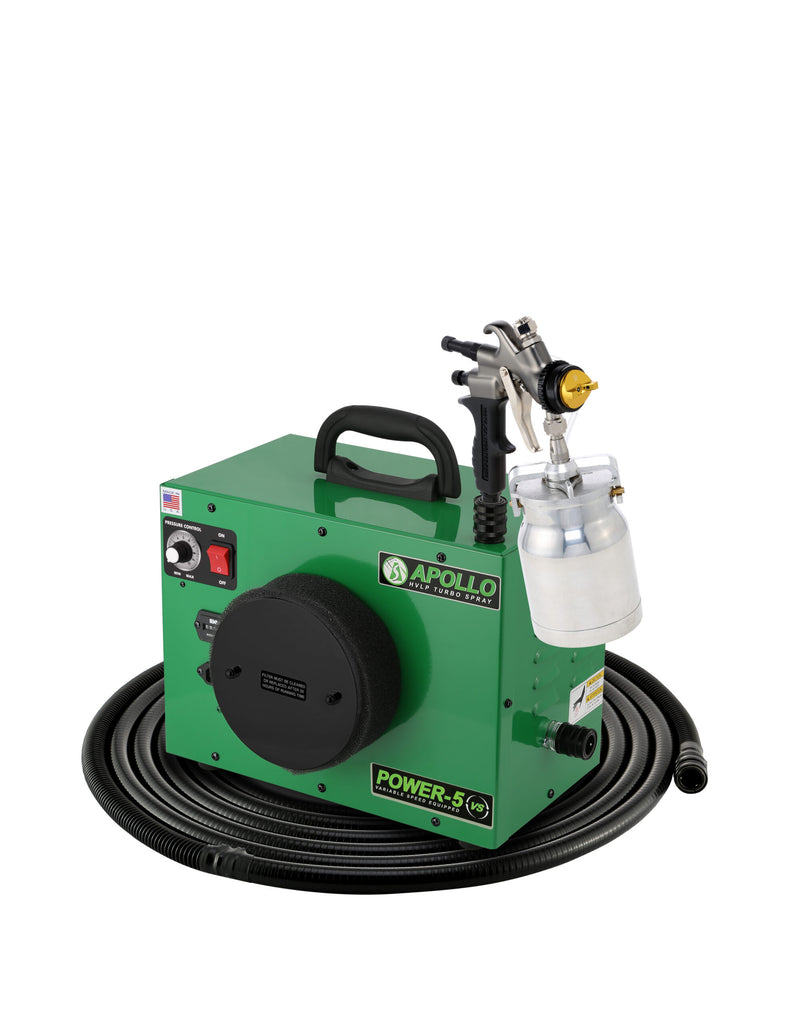 Apollo Power-5 VS HVLP Turbine Systems
✓ Lowest Price Guaranteed + No Sales Tax
✓ Ships out next business day
✓ Questions?
Give Us A Call: 1-800-727-6553
---
Apollo Power-5 VS HVLP Turbine Systems

The Apollo Power-5 VS, featuring Apollo's new variable speed control, is perfect for spraying solvent-based materials such  as: enamels, stains, lacquers, and polyurethanes, catalyzed finishes, conversion varnish and linear polyurethanes, as well as any waterborne coatings, latex (emulsion) paint (use with Floetrol® or similar flow additive) and other specialized materials like contact cement, faux paints and gelcoat. 

Apollo's New Power-5 brings you 22% more power from a 5-stage Turbine and that means you've got the power and performance to spray higher viscosity materials with excellent results.


This 5-Stage HVLP Turbine is an extremely versatile unit and is widely used by woodworkers, boat builders and restorers; for automotive and airplane restoration and finishing; and any industry desiring super fine atomization with the widest range of materials.

The Power-5 VS will support multiple spray gun operations. 

This turbine comes equipped with the Handi-Hold™ Spray Gun Docking Station, Apollo's newest innovation. Store, hold or transport your spray gun in a vertical position with no risk of knocking or falling over. Ready to spray when you are.

This unit is equipped with an internal air relief valve to accommodate a non-bleed style turbine spray gun.

Standard Accessories included with Systems - a $208 Value
Deluxe Spray Gun Case (WHEN ORDERED WITH 7700 GUN), 1.0mm Needle & Nozzle, Wrench (Spanner), Gun Lube, Cleaning Kit, Viscosity Cup & Blow Off Tool.

OR (choose above)

Deluxe Accessories - a $447 Value - AVAILABLE ONLY WITH 7700 GUN
Deluxe Spray Gun Case, A7700 HVLP Spray Gin with 1.3mm Needle & Nozzle, Additional Spray Kit containing the 1.5mm and 1.8mm needle and nozzle sets and the C-HS air cap, Wrench (Spanner), Gun Lube, Cleaning Kit, Viscosity Cup & Blow Off Tool.

---

Specifications:

5 Stage

Variable Speed PSI Control, hour use meter, lighter weight design, comfort carry handle and anti-vibration pads.


10 PSI (.069 bar)

130 CFM

Dual Air Filtration

HVLP Only - Single Spray Gun

110VAC - 60HZ

H.P. 1.85

length: 15"

width: 8.5"

height: 12"

weight: 25 lbs

Supplied with 32 foot flex air hose when ordered as a system with gun.

Choose from these Power-5 Systems in the Drop Down Box above:

---

Available Tip & Needle Sizes for 7700 Gun:

0.5mm - Use for Automotive clear coats when doing spot repair only.
0.8mm - Use with very thin materials such as stains and dyes. Also used for auto clears and base coats
1.0mm -

 

(default size for Standard Accessory Package)

 

Use for fine touch up, heavier stains, thin lacquers, varnish, shellac
1.3mm - (default size for Deluxe Accessory Package) Use for most common clear and base coat finishes
1.5mm - Use for heavier bodied clear and base coat finishes, lighter primers and latex paint on cabinets
1.8mm - Use for heavy bodied clear finishes, light oil based paint finishes and Latex paint on doors and walls.
2.0mm - Use for light primers, oil based finishes and Exterior latex finishes
2.5mm - Use for most latex coatings, heavy build primers and multi-color finishes and Gel-Coat

If you're ordering a system with the 7700 Atomizer gun and would like it supplied with a needle size other than 1.0mm or 1.3mm, enter the size in a note with your order. You will receive your gun with the Tip/Needle size you select along with the appropriate Air Cap.
---
Share this Product
---
More from this collection