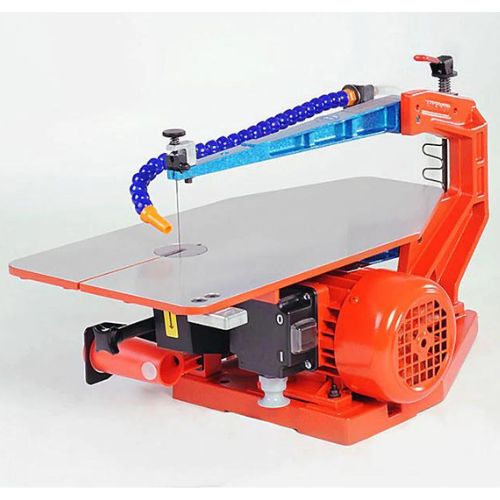 Hegner Multimax 14 Single Speed Scroll Saw
✓ We Are the Exclusive Hegner Dealer in the U.S.
✓ Lowest Price Guaranteed + No Sales Tax
✓ Ships out next business day
✓ Questions?
Give Us A Call: 1-800-727-6553
---
Hegner Multimax M14-E 14" Single Speed Scroll Saw
The Hegner 14" Multimax Single Speed Scroll Saw is the perfect starter saw for the passionate scroller. The M14-E packs many of the key features that have made the Hegner brand legendary including precise, accurate cuts with smooth finished edges, on-the-spot turning, smooth vibration-free operation, quick blade changing, and consummate reliability. Its 14" throat is ample for many scrollsaw projects, and most of all its precisely engineered stroke pattern makes for a consistently rewarding sawing experience. The steady speed also makes it a harmonious & terrific production machine for small pieces. The M14-E's compact size and weight make it an ideal road machine as well - perfect for a crafter to take to shows or for the hobbyist to take with them on the go.
Hegner M14-E Single Speed Scroll Saw versus M18-V or M22-V Variable Speed Scroll Saw
Compared to other Scroll Saws, the M14-E is an excellent value if you are looking for a compact but highly effective scroll saw for smaller shops or projects. The M14-E is the little brother of the larger M18-V and M22-V. The M14-E has a 14" throat for work up to 28" across, a thickness capacity of 1 7/8", and a 1700 RPM 1.9A Motor allowing it to easily handle materials most commonly used for typical scrolling.
If you are looking for a larger size table for larger pieces of wood, variable speed functionality, and a more powerful motor, we recommend the 18" or 22" Hegner Variable Speed Scroll Saw. It has a 18" or 22" throat, a larger thickness capacity of 2 5/8", and a 2.83A motor. The variable speed functionality and additional power make it better suited for more delicate work such as marquetry, or very thick or hard, exotic woods, plastics, and/or metals.
What's Included with your Hegner M14 Order:
With your M14-E, you will get a Scroll Saw fully assembled with a hold-down arm, 45-degree tilt worktable, and sawdust management system. It also includes a pair of 0.7mm blade clamps mounted on the machine, 2 TuffScrews, 1 TuffWrench, an assortment of 76 saw blades, and miscellaneous operating hardware.
We are now also including the Hegner QuickClamp to all M14-E orders! While the Standard Blade Clamps get the job done, the QuickClamp makes for a better experience with your Hegner Scroll Saw. The QuickClamp allows you to instantly align your blade in the same position every time. Since it doesn't require a wrench, it's super fast to release and re-tighten for speedy blade changes - especially useful for those frequent inside cuts! The easy-grip knurled aluminum knob places pressure directly on the blade for slip-free tightening. The QuickClamp is designed to be locked into place in the upper arm and accepts all blade sizes.
Recommended Add-On: Hegner Scroll Saw Stand
Please Note: The Hegner Scroll Saw Stand does not come included with M14-E orders and must be purchased separately!
Your M14-E Scroll Saw can be used with or without the stand but we strongly encourage it for a better overall experience. Nearly every customer who purchases the saw without the stand ends up coming back to us eventually to buy the stand. It helps optimize the performance of the saw and ensures smooth operation by absorbing the vibration inherent in scroll saws.
Questions? Give Us A Call at 1-800-727-6553
If you have any questions at all, we'd be happy to help. We are the Exclusive Hegner Dealer in the U.S.A. and are experts on the Hegner Machine.
Looking for M14-E Replacement Parts?
If you already own a M14-E and are looking for replacement parts, give us a call at 1-800-727-6553 or send us an email to support@advmachinery.com. We'd be happy to assist!
Hegner 14" M14-E Single Speed Scroll Saw Specifications
Dimensions of the Saw: 18 1/2" L x 11 3/4" W x 13 5/8" H
Throat: 14 1/3" - handles work up to 28" across
Thickness Capacity: 1 7/8"
Dual-Tilt 45/15 degree 15" x 7" table
QuickLock Tension System
Workpiece Hold-down w/ Fingerguard
Single Speed 1700 RPM, 1.9A Motor
7-year Commercial Use Manufacturer's Limited Warranty. See our Warranty page for more information.
Made in Germany
---
Share this Product
---
More from this collection