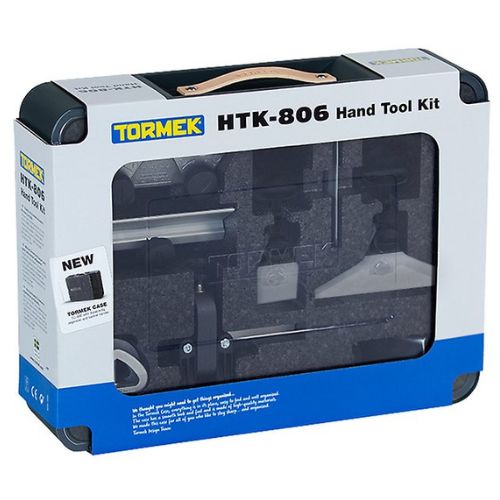 Tormek HTK-806 Hand Tool Kit
✓ Lowest Price Guaranteed + No Sales Tax
✓ FREE SHIPPING:
Ships out next business day
✓ Questions?
Give Us A Call: 1-800-727-6553
---
Tormek HTK-806 Hand Tool Kit
The Tormek HTK-806 Hand Tool Kit is a perfect add-on to your Tormek T4 or T8 Sharpening Machine giving you every jig and accessory you need for sharpening hand tools. Sharpen knives, scissors, wood splitting knives, small knives and axes, lawnmower blades, as well as short chisels and carving tools. All your accessories will be conveniently stored in the included case.
What's Included in the HTK-806 Hand Tool Kit:
TC-800 Carrying Case
Comes with premium leather handle and a slidable lid to keep everything in place.
HTK-00 Storage Tray for Hand Tool Kit
Stores and organizes all jigs with the perfect fit.
KJ-45 Self Centering Knife Jig
For most knives. Width 45 mm (1 3/4"). Long knives need to be stiff. Min blade length 60 mm (2 3/8"). Also for carvers draw knives.
KJ-140 Wide Centering Knife Jig
Suitable for long and flexible knives. The 140 mm (5 1/2") width of the jig stabilizes a thin blade. Min blade length 160 mm (6 3/8").
SVM-00 Small Knife Holder
Sharpens small knives of different shapes for whittling, chip carving and detail work. Even pocket knives can be sharpened with perfect control.
SVX-150 Scissors Jig
For scissors of all sizes and shears. Also suitable for portable electric hand planer blades.
SVS-38 Short Tool Jig
For straight shanked carving gouges, V-tools, short wood chisels, and tools for power carvers.
SVA-170 Axe Sharpening Jig
For carving and carpenter's axes. Can be used whether the axe has straight or curved edge.
---
Share this Product
---
More from this collection