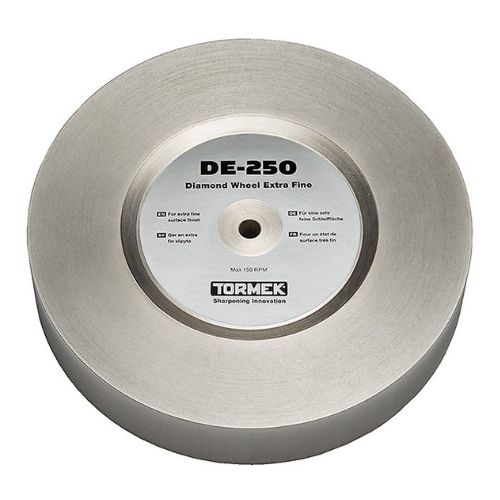 Tormek DE-250 Diamond Wheel Extra Fine for T-8
✓ Lowest Price Guaranteed + No Sales Tax
✓ FREE SHIPPING:
Ships out next business day
✓ Questions?
Give Us A Call: 1-800-727-6553
---
Tormek Extra Fine Diamond Wheel DE-250
The Diamond Wheel Extra Fine DE-250 is the best diamond wheel if you want the smoothest surface finish with your Tormek T-8 Sharpener. At 1200 grit, it is especially suited to carving tools and knives requiring minimal steel removal.
Extra Fine Diamond Grinding Wheel for the Tormek T-8
Provides an extra smooth finish
Constant shape, always maintains the same diameter
Sharpens all types of steel and ceramic
Allows for sharpening on the side of the flat side of the grinding wheel for a completely flat bevel
Exceptional durability with diamond, the world's hardest abrasive
1200 Grit - 

this is NOT adjustable with the SP-650 Stone Grader like the

 

Original Grindstone

 

and the

 

Blackstone Silicon

 

Grinding Wheels

250 mm (9.84") in diameter and 50 mm (1.97") wide
Fits the T-8 Sharpener but also compatible with the T-7 and older models

If you need the Extra Fine Diamond Wheel for the T-4, we have the DE-200

 

available
Reasons to love the DE-250
Sharpens all materials
It can grind all types of materials, including steel, ceramics, and carbide. It is especially appreciated by woodcavers looking for a mirror finish on the bevel.
If you need to give your tool a new edge, it is best to do that on another grinding wheel first, such as the DC-250 Coarse Diamond Grinding Wheel before using the DE-250 Diamond Wheel Extra Fine to give the final finish.
Simplified Jig Setting & Repeat Sharpening
All Tormek Diamond Grinding Wheels have exceptional durability, constant abrasive power, and stay round and flat with a full-size diameter. If you tend to sharpen the same tool, you will love the Diamond Wheels as it will simplify both jig setting and sharpening.
A Completely Flat Bevel
With its constant shape, it makes it possible to sharpen on the side of the wheel or on the upper surface. Side sharpening can be done with smaller tools such as knives, chisels, carving gouges and v-tools. Instead of a slightly concave surface, you will have an edge with a completely flat bevel.
Rust protection for increased service life
All diamond grinding wheels are supplied with 150 ml of ACC-150 Anti-Corrosion Concentrate. Always add the concentrate to the water when sharpening with water to prevent rust on the grinding wheel. Add 10 ml (0.02 pints) of concentrate to 250 ml (0.4 pints) of water (~4%). We recommend always using water when sharpening with diamond grinding wheels if possible, as it both prolongs the service life of the wheel and provides a smoother sharpening surface. You can also sharpen without water.
DE-250 Diamond Wheel Extra Fine Specifications
Grinding wheel dimensions

Diameter: 250 mm (9 13/16")
Width: 50 mm (1 15/16")

Weight: 4.22

 kg (9.3 lb)

Color: Silver

Material: 

Steel, Diamond Coating




Grit: 1200 grit

Warranty: 2-years
---
Share this Product
---
More from this collection