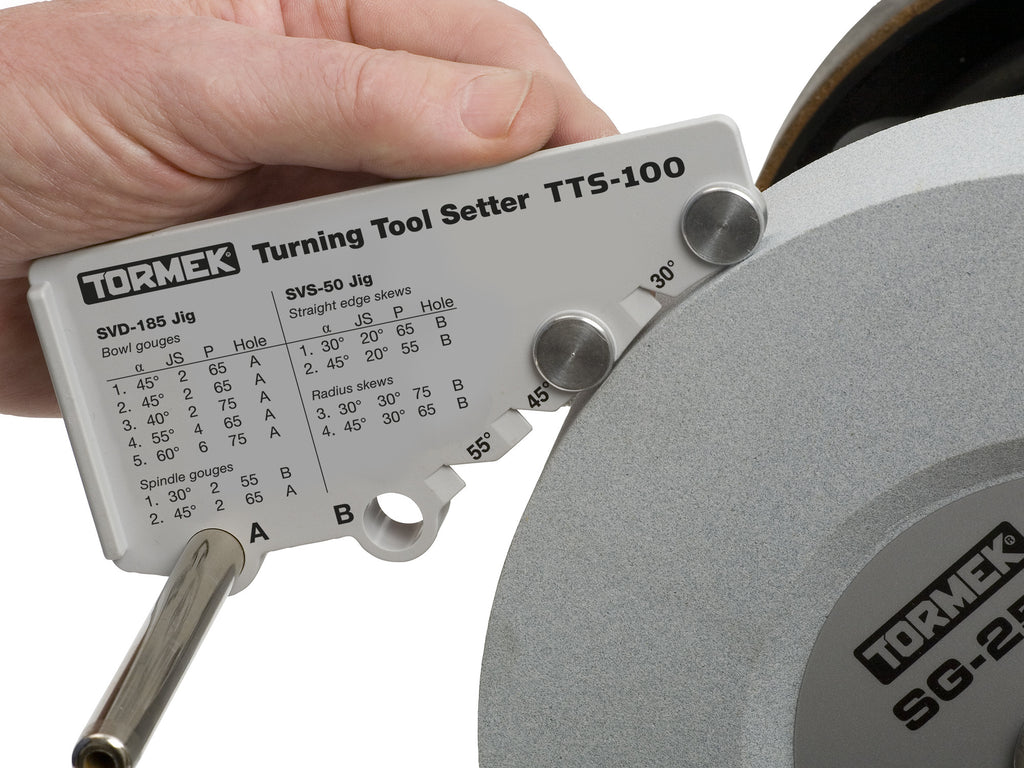 Tormek TTS-100 Turning Tool Setter
---
Exact replication on woodturning fingernail gouges and skews
Fingernail gouges and skews with a curved edge are difficult to sharpen with precision due to the complicated geometries. Both the shape and edge angle must be repeated exactly.
Look at the geometries shown in the picture achieved on a fingernail spindle gouge, a fingernail bowl gouge, a plane skew with a radius edge and on an oval skew with a curved edge.

This latest development from TORMEK, the Turning Tool Setter TTS-100 solves this problem and makes the sharpening an easy task. It enables you to exactly replicate the edge on bowl or spindle gouges as well as flat or oval skews with either a straight or a curved edge.

Thanks to the exact settings at each sharpening – you can just touch up the edge and the work is done in seconds. You do not shape but sharpen the tool.

The Setter works with the TORMEK jigs SVD-186 for gouges and the SVS-50 for skews. The built in settings give you pre-determined edge geometries, which are recommended by experienced turners around the world. You do not need to worry about whether you have the right shape.

Another benefit of the design is that it works irrespectively of the stone diameter. You always get exactly the same edge angle – even when you switch from a worn stone to a new larger one. The Turning Tool Setter works as well when setting the edge angle on the leather honing wheel.



---
Share this Product
---
More from this collection