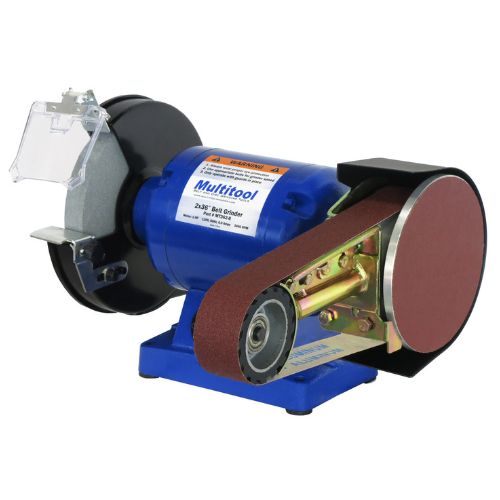 Multitool Complete Belt Grinder
✓ Lowest Price Guaranteed + No Sales Tax
✓ FREE SHIPPING:
Usually ships next business day
✓ Questions?
Give Us A Call: 1-800-727-6553
---
Multitool Belt Grinder with 1 HP Motor
Get the popular Multitool Bench Grinder attachment complete with a 1 hp motor. This is a powerful bench grinder that removes metal 5 times faster than stone wheels. You can switch between belts in an instant for polishing, de-burring, contour shaping, and rust removal. You can tackle general metalworking, knife making, lawnmower blade sharpening, golf club reconditioning, and much more with this easy-to-use and dependable grinding and polishing tool. Once you have this grinder in your shop, you will see why Multitool has been a favorite of fabricators and hobbyists for over 40 years.
The Multitool Grinder provides multiple working surfaces including:
A front contact wheel - for smooth controlled grinding, contouring, or internal finishing
A precision top platen - can be used for perfect flat finishing
The underside - a slack belt surface great for external contouring and blending
A large disc sander - for beveling, deburring, squaring, and general sanding
Choose Your Belt Size
2" Wide x 36" Long Belt
Most Popular Size / Best Seller
Motor: 1 hp, 110 volt, 6 amp
Belt Speed: 4970 feet per minute
RPM: 3450
3.5" Contact Wheel
2.125" x 5.875" Platen Size
7" Disc
52 lbs
2" Wide x 48" Long Belt
Extra Long Top Platen
Motor: 1 hp, 110 volt, 6 amp
Belt Speed: 4970 feet per minute
RPM: 3450
3.5" Contact Wheel
2.125" x 11.25" Platen Size
7" Disc
54 lbs
Both units come with a 100 grit belt, a 80 grit disc, 8" 36 grit grinding stone, Instructions, Hardware, a 3 Year Warranty on the Attachment, and a 2 Year Warranty on the Motor.
Optional: Add a Deluxe Abrasive Belt Kit
We highly recommend adding this convenient starter pack with all the popular belts for your Multitool so you can get up and running. The belt kits are made to fit either the 2' x 36" or 2' x 48" grinders, we'll make sure to send you the correct belt kit for your belt size.
The Deluxe Abrasive Belt Kit includes:
40 grit premium aluminum zirconia belts
80 grit premium aluminum zirconia belts
120 grit premium aluminum zirconia belts
220 grit Trizact belt
400 grit Trizact belt
1200 grit Trizact belt
Polishing belt
4 piece rouge kit
40 grit disc
80 grit disc
180 grit disc


Multitool 2" x 36" Grinder User Guide
---
Share this Product
---
More from this collection