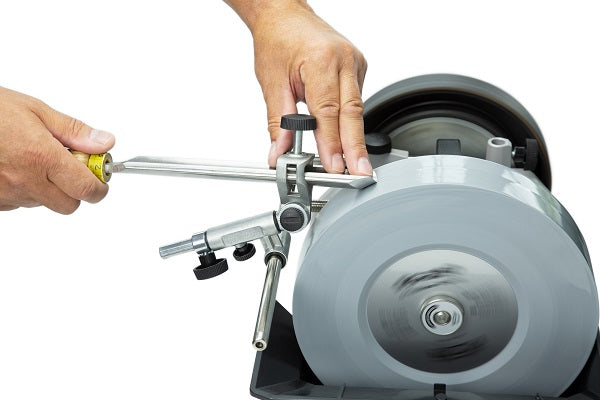 Tormek SVD-186 R Gouge Jig
✓ Lowest Price Guaranteed + No Sales Tax
✓ FREE SHIPPING:
Ships out next business day
✓ Questions?
Give Us A Call: 1-800-727-6553
---
Tormek SVD-186 R Gouge Jig
The new SVD-186 R Gouge Jig features and additional locking screw which allows you to fix the Gouge Jig's rotational movement at the desired location. With this feature, it will be easier to maintain full control when sharpening carving tools such as V-tools. The locking screw also facilitates grinding to a completely flat bevel on violin making knives and chip carving knives when using the MB-100 Multi Base and Tormek Diamond Wheels.

With the NEW Tormek patented SVD-186R you can sharpen your wood turning gouges to a razor sharpness with full control. You get an exact replication of both the shape and edge angle. You can also use it for woodcarving tools, such as curved gouges and V-tools. Used correctly, there is no alternative method that can give you faster or sharper results.
The jig now fits up to 36 mm wide tools and has an easy and precise click setting.
The video below shows the action of the previous SVD-186 jig, so you do not see the new locking screw.
Superior Edge


Wet grinding on your Tormek gives you a very sharp edge that will last much longer. A really sharp gouge cuts easily and will give the wood a very fine surface, often there is no need for sanding.
Full control


With the
Turning Tool Setter TTS-100
, you get exactly the shape and edge angle you want depending on your turning. Even the length of the side wings can be varied so that the shape of the gouge fits your way of turning.
Exact replication


Thanks to the exact replication of both the shape and the edge angle, the sharpening will take less than a minute. Since you only remove a tenth of a millimetre at each sharpening, your turning tools will last for years, probably your whole lifetime.
---
Share this Product
---
More from this collection