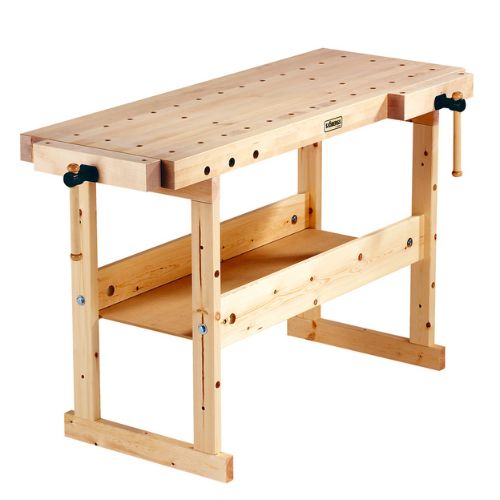 Sjobergs Nordic Plus 1450 Workbench
✓ Lowest Price Guaranteed + No Sales Tax
✓ FREE SHIPPING:
Delivery in 7 to 10 business days
✓ Questions?
Give Us A Call: 1-800-727-6553
---
Sjöbergs Nordic Plus 1450 Workbench
The Sjobergs Nordic Plus 1450 is our #1 affordable workbench recommendation for hobbyists. It has the quality and functionality you come to expect from Sjobergs workbench at a reasonable price.
This bench top is 52-3/4" long and 19-5/8" wide and over 1" thick in the center and 2-3/4" at the skirt. It is made of a hard Nordic Birch wood so you can rest assured you are getting a strong and durable worktop.
The Nordic Plus 1450 has the perfect size, thickness, and durability for hobbyists but if you are a professional woodworker looking for a little more thickness and durability, we recommend checking out the Sjobergs Scandi Plus.
This workbench is highly versatile allowing you to securely hold almost anything. Suited for both right and left handed users, this bench comes with two vices that can be located in four different places (one on both ends and two long the front edge). There is a double row of bench dog holes extending from all vise locations providing endless opportunities for clamping.
Trestle is constructed with pre-drilled dog holes (4 bench dogs included)
Built for both right and left handed users
Clamping on both ends or dual clamping on the front
Sjobergs Nordic 1450 Recommended Add-Ons
For the best workbench experience, we recommend adding the Storage Cabinet Module and the Accessory Kit which includes jaw cushions, a universal anvil, and Sjobergs Holdfast clamp specifically designed for use with the Nordic Plus 1450.
These can be added in the "Choice of Package" dropdown above.
Sjobergs Nordic Plus 1450 Storage Cabinet
Adding the Storage Cabinet Module for the Nordic Plus 1450 gives your workbench an awesome finished look and of course will help keep your tools organized and ready when you need them. An added benefit is that the extra weight keeps your workbench from shifting and dampens vibration from any tools or heavy work you may be doing. The drawers slide smoothly on wooden runners.
Sjobergs Nordic Plus 1450 Accessory Kit
The optional Accessory Kit is specifically made for this workbench and improves the functionality and increases the longevity of your workbench. The kit includes Sjobergs ST03 Holdfast Clamp, Jaw Cushions, and the UA13 Universal Steel Anvil.
The ST03 Nordic Plus Holdfast Clamp can be used in any 3/4" dog hole and swivels 360° to clamp anywhere on the benchtop or along the trestle legs.
The Jaw Cushions are rubberized cork adhesives that protect the vise jaws and your workpiece.
UA13 universal steel anvil protects the top. It simply slips into the dog holes along the edge of the benchtop.
Sjobergs Nordic Plus 1450 Workbench Specifications:
Length of Worktop: 52-3/4"
Total Length: 57-7/8"
Width of Worktop: 19-5/8"
Total Width: 24-3/4"
Working Height: 33-1/2"
Worktop Material: Nordic Birch
Thickness of Worktop: 1-1/8"
Thickness of Skirt: 2-3/4"
Vise Capacity: 4-1/2"
Weight (without Storage Cabinet): 68 lbs
Weight (with Storage Cabinet): 103 lbs
---
Share this Product
---
More from this collection